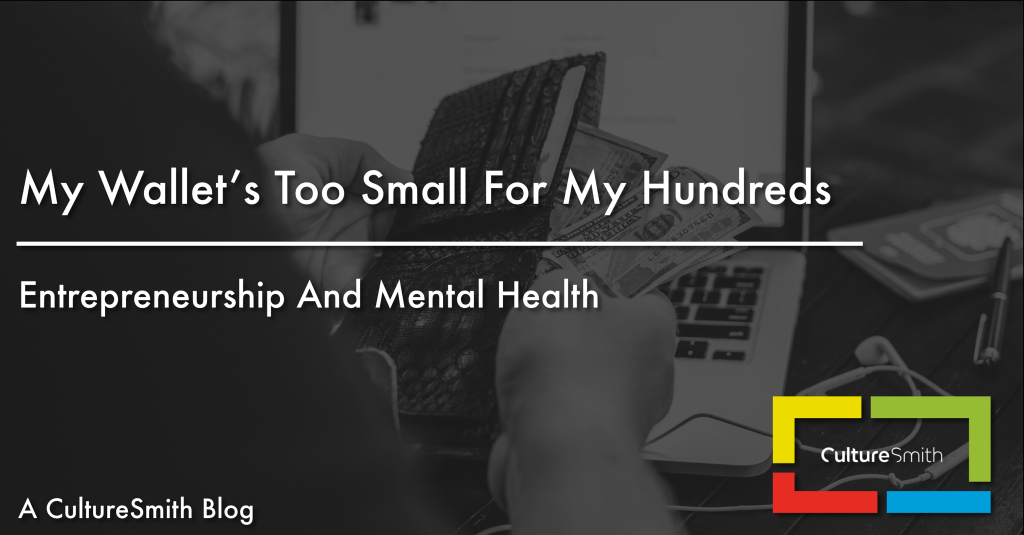 My Wallet's Too Small For My Hundreds
38 Minutes.
That is how long it took me to launch my first company. 
In reality it took a few weeks to actually come up with a name, file the incorporation documents, find an office, design a logo, create a business plan, etc. but I consider the "launch" of the company to be the time between having the idea for the company, and the emotional commitment to seeing it through.
And that took 38 minutes.
I know this because that is how long my evening commute was at the last company I worked for. Leaving the office one night I was frustrated with the way we were doing business and was consumed with thoughts of "there must be a better way". By the time I pulled into my driveway I was convinced that I had found that better way and declared to my wife while walking through the door that I wanted to start my own company to make it happen. 
13 years.
That's how long I've been paying for those 38 minutes.
I've spent a good chunk of the past week thinking about those 38 minutes. Last week I was invited to help critique the initial pitch deck for a start-up in the coaching and training space. Those of us on the panel were tough on the founders. We questioned pretty much everything they threw at us until one of them finally threw up his hands and said "you guys just don't get it". 
They were 100% correct, I didn't get it. However here is just a small portion of what I do get:
According to Inc. Magazine, 96% of all start-ups fail. Fortune Magazine states that of those who do fail, over 30% of them fail due to the emotional state of their founders. 
Morneau Shepell claims that 72% of entrepreneurs report having at least one significant mental health issue, which is alarming on it's own but even more so when compared against the 7% of the general population who makes the same claim.
Dr. Michael Freeman's work has shown that 1 in 3 entrepreneurs live with chronic depression and while nearly half of marriages end in divorce, Advance Daily reports that this number is close to 67% for entrepreneurs.
What these founders did not see in my questions relative to those of others on the panel, was that I was not questioning their revenue projections, their marketing strategy or their cash reserves.
I was asking them why they wanted this? How healthy were they? How strong was their marriage? These seemed like odd and somewhat offensive questions to them so they really paid them little attention, instead focusing on those that they could point to a chart or spreadsheet to answer.
The reason I was so intent on these questions is that these are the questions I wished someone had asked me shortly after the 38 minutes it took me to decide to start my own firm.
Being an entrepreneur is glorified in our society.  All you need to do is hop on Instagram and search #entrepreneur. At the time of this post that particular hashtag shows up 29,629,047 times.
Now scroll through that feed. You will see memes with motivational slogans and wins and successes and how great being an entrepreneur is. You will see pictures of Elon Musk and Steve Jobs who are today's rockstars and celebrities. You'll see statements like "three months from now you'll thank yourself" and "a dream doesn't become reality through magic, it takes sweat" and my personal favourite;
"Entrepreneur Problems: My Wallet's Too Small For My Hundreds".
What you will not find are mental health stats, support groups or any real talk about what being an entrepreneur is actually like and the toll it will take, not just on your wallet, but on your psyche.
Now, I would never personally trade my life as an entrepreneur for anything. I know there is no universe in which I am not running my own shop. I however, am fortunate. I have a great support system. I have people whose job it is to hold me accountable and people whose job it is to let me feel as though I'm getting away with things. 
I didn't always have that though. I acquired it through pain and sacrifice that I was only willing to go through out of necessity. This is why I was pressing so hard on these founders, to try and save them much of that pain.
When the session ended and we were asked to give our final assessments I gave them a thumbs down. This of course was not well received and had one of the founders flipping back through slides to show me his revenue projections again. I asked him to instead turn to the slide that spoke about culture.
He couldn't. Because there wasn't one. And that is why I withheld my endorsement.
I have a great corporate culture. My place of work is my place of healing. It's where I take my problems to have them fixed, not the other way around. 
I told them THIS is the way it should be. I have hired well. The people that are around me are amazing problem solvers. Their problem solving ability is the source of our revenue. If that is true why would I not give them my problems to try and tackle?
The short answer is fear, insecurity, embarrassment, anxiety… you know the things that Instagram tells me entrepreneurs don't have. Well, the real world tells me Instagram has it's head up it's ass. Being an entrepreneur breeds fear, insecurity, embarrassment and anxiety, sometimes daily. 
They had no way of dealing with this inevitability because they had no plan for building a culture. As the meeting closed I offered to help them with this. I told them that whenever they asked, I would offer advice on how to build a culture that would help keep them whole.
I have no idea if they'll take me up on that offer. Having felt the sting of rejection myself many times throughout the climb, I know how difficult it can be to process.
I sincerely hope they do though and will most likely reach out to them if they don't because while building the right culture may not automatically give you more hundreds than your wallet can handle, I can guarantee it will make it so that the wallet and whatever is in it matters very little.
BUSINESS SEMINAR
Is your company a revolving door of talent?  This company was, until we stepped in and reversed the curse.  Click to learn how we did it.
LEARN MORE